Woven wire mesh is a  wire gauze fabric made of metallic or synthetic material which is manufactured by a weaving process. Wire mesh products are strong, stable, flexible and enjoy a certain permeability for liquids, air and other fine products. Woven wire mesh needs to be highly durable and of excellent quality to ensure the best possible experience within the manufacturing process or product. It is also a very versatile product as wire mesh can be used within a wide range of industries.
Wire mesh products and industries
Metallic woven wire mesh and synthetic wire cloth is widely used in various types of industries, mostly for processing purposes where foods or non-foods need to be dried, filtered or transported. On the other hand, woven wire mesh can also be used for fences and decoration of buildings. A small selection of industries where wire mesh is used is shown below:
Food industry
Food and pharmaceutical industry
Paper industry
Chemical and Petro chemical industry
Waste water industry
Hygiene and sanitary industry
Architectural industry
Internal transport and conveyor belt industry
Woven wire mesh types
It is possible to manufacture various types of wire mesh weave patterns. There are too many variations to mention, however the most common weaves are for example Plain, Dutch and Twill weave.
Plain weave is very stable and is the most common type of weave used for wire meshes. The warp and weft wires follow the same path, which means that during the weaving process each wire crosses one wire above and one wire below and so on.
Twill weave is a slightly more flexible type of wire mesh which looks similar to the plain weave from above. However, this weave is different as the weft wire goes below two wires and then above two wires and so on. This is also the case when it comes to the warp wire.
Dutch weaves are mostly very tightly woven wire mesh types, the wires of these kind of weaves lie as closely as possible against each other. This type of weave is very suitable for sieving small particles out of liquid products, as it is very strong and tightly woven.
Five heddle weaves (or other type of heddle weaves) have a very smooth top surface and an open lower surface with a great air permeability yet strong and stable, this is ideal for filter (belt) purposes.
Furthermore, weaves can also have a specific texture like a herringbone. This texture can be applied in order to stabilize the wire mesh even further when a high air permeability is needed. It is also possible to manufacture woven wire mesh of various materials within one single weave, like combining polyester and steel or by applying an antistatic wire to prevent the risk of an explosion in the production of powder for instance.
In other words, a different kind of woven wire mesh can be designed and manufactured for each type of demand. This really depends on the type of industry and the purpose of the end product.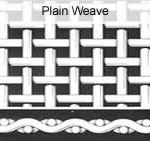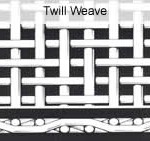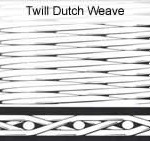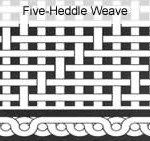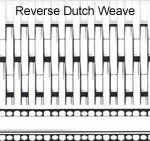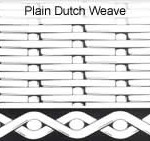 Wire mesh materials
A wide range of materials can be used for weaving to produce various types of monofilament woven wire meshes. This really depends on the demands of the customer, the industry and the final purpose of the woven wire mesh. Common materials within woven fabrics are stainless steel, phosphor bronze, polyester and polypropylene. However, brass, copper, aluminium, polyamide and other types of steel can also be used to produce the desired wire mesh.
Custom made
Most of the woven wire meshes supplied need to fulfill the specific needs of the customer, since no customer is the same with regard to the process or end product. Examples of specific demands are sizes, materials, shape, seam for making endless wire mesh, finishing of the edges and thermosetting woven wire cloth like polyester.
Wire mesh belt seam
Woven wire cloth belts for conveyor, drying or sieving purposes need to be seamed in many cases. This means that the two sides of the belt need to be joined in order to make the wire cloth belt endless. This can be done in various ways, for instance by weaving the belt endless in a seamless way, by applying a single eye or double eye seam, by a stainless steel clipper seam or a spiral connection. A welded seam on steel wire mesh is also possible, however this is not a manner to make a belt specifically endless but to connect two ends when necessary. Some examples of these seams are shown below: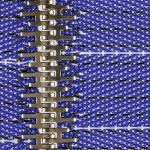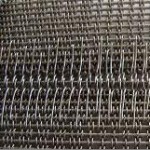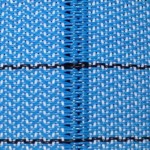 Thermosetting and edges
Thermosetting polyester wire cloth is recommended in most cases. Certainly when the customer is going to use the polyester wire mesh belt in severe circumstances. Thermosetting the polyester wire cloth will prevent stretch during the time that it is in operation, such as situations with high temperatures and force on the polyester woven wire cloth. Finished edges on a wire mesh belt is also recommended when using it for conveyor purposes, this can be done by melting the edge by high frequency or adding a edge of polyurethane.
Company overview
Summary
Wiremeshes.eu | Drenth Holland BV is specialized in everything that has to do with woven wire metal mesh, synthetic monofilament filter cloth and wire cloth. Wiremeshes.eu | Drenth Holland BV can manufacture and weave almost any type of wire cloth. Common specifications are for example 4 to 100 mesh,  with wire diameters of 0.10 mm up to 2.00 mm and wire mesh widths up to 6 meters. Do not hesitate to contact us by means of the contact form on this website should you have any questions or inquiries.
Materials & applications
Wiremeshes.eu | Drenth Holland is manufacturer of custom made woven wire mesh for industrial applications, amongst others:
Stainless steel wire mesh
Phosphor bronze wire mesh
Monel wire mesh
Copper wire mesh
Brass wire mesh
Monofilament polyester mesh
Monofilament polypropylene mesh
Polyester spiral mesh
These wire meshes are manufactured according to customer demand but also a number of standard type of wire meshes are kept in stock. Wiremeshes.eu | Drenth Holland has been producing these types of wire meshes since 1913. Wiremeshes.eu | Drenth Holland is a flexible organization which applies a customer-oriented production but mostly the lead times are flexible and thus also negotiable. Wiremeshes.eu | Drenth Holland weaves and supplies a wide range of technical wire meshes like filters, sieves, machine covers, filter belts, architectural wire mesh, vacuum belts, metal wire mesh belts and woven conveyor belts. Most of the wire mesh products are produced in stainless steel, bronze, polyester and polypropylene but also combinations of various materials are part of the product range. Wiremeshes.eu | Drenth Holland supplies to end users as well as to resellers and industrial service provider companies worldwide.
Type of weaves & finishing
These wire meshes can be woven up to 6 meters wide. Various type of weaves can be manufactured such as plain weave, twill weave, twill Dutch weave, Five-Heddle weave, Reverse Dutch weave, plain Dutch weave and double layer weave. Some of the polyester woven wire cloth is equipped with anti-static wires to get rid of the static charges on the belt in certain areas at the clients production site. Static energy could lead to undesired negative side effects on the manufacturing process, such as for example the risk of explosion and fire. Another type of synthetic wire mesh is the so-called spiral cloth, this is produced with different manufacturing techniques compared to the production process of woven wire mesh. All types of wire mesh can be finished according to customer demand such as edge and seam finishing for filter and conveyor belts.
Send an inquiry