Through dryers and dandy rolls are two different installations, with different functions for different purposes, there are also similarities between the machines. Both type of machines contain rolls with wire mesh and are processing e.g. paper in processing lines.
Through dryers
A through dryer is built to dry various types of materials within a production line, however the focus lies on paper within this paragraph.
A Through dryer is usually a big installation with a number of rolls and hood dryers all in one production line-up. The picture below shows the composition of a typical through dryer. Paper is pulled by various rolls through the whole installation. The hood dryer causes a continuous flow of air on the through dryer roll and through the paper passing within this installation. The wire mesh is attached on the roll to provide stability for the paper and optimal vent possibilities as wire mesh is a porous material. This is necessary to get rid of humidity and to dry the paper for further processing.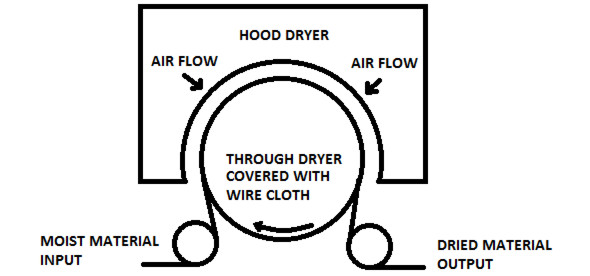 Dandy rolls
Processing paper in production lines is even more sophisticated when it comes to security paper. Security paper needs to be produced with zero defects and so it needs to be processed with perfection. Security paper needs to be embossed with a relevant watermark, Dandy rolls are therefore used in order to obtain this.
Dandy rolls are rolls covered with Phosphor bronze wire mesh within production lines. These dandy rolls consists of wire mesh which is mostly covered with watermarks. These watermarks are welded on top of the wire mesh all around the dandy roll which contains various layers of detail.
Dandy rolls process wet paper by pressing and rolling over the paper to get the following results:
To press the watermarks in to security paper
To dry security paper for further processing
To improve the strength and structure of the paper
To improve the felt side quality
To make security paper smoother on the top side surface
To enhance the printability of security paper
Drenth Holland bv originated from a former paper factory almost 100 years ago. Today  Drenth Holland bv also involved within the security paper industry across America and Europe, where excellent quality phosphor bronze and stainless steel wire mesh is considered as the standard.