Monofilament polyester mesh is largely used within the food and non-food industry for a variety of purposes and applications. A monofilament polyester mesh is a polyester fabric with monofilament wires which consists of only one type of fibre. This wire is a continuous filament which is commonly a circular shaped wire with a smooth surface. Monofilament polyester wires enjoy a great resistance and do not bind easily. This type of polyester mesh is used as filter belts, conveyor belts, draining belts, dewatering belts, drying belts, wash belts, sieves and filters. Types of monofilament polyester mesh weaves could be for instance; Plain weave, Twill weave, Dutch weave and Five-heddle weave. Different types of monofilament polyester fabrics can be found below:
Blue monofilament polyester mesh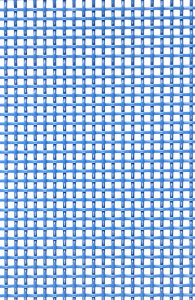 Mostly blue polyester fabric is predominantly used for polyester mesh belts for washing fruit and vegetables within the agricultural sector.
This material can also be supplied in the colour white, but blue is often preferred as it is easily detectable between the products in case of damage. Various polyester mesh belts are available with a mesh opening ranging between 1000 micron (1 mm) and 4000 micron (4 mm), where obviously 4000 micron has the highest air and water permeability. Thus small foods may benefit from polyester mesh with a small mesh opening, where larger sized food may process better on polyester mesh belts with a bigger aperture. Most of the polyester mesh belts are finished with PVC or PU edges, cleats and a metal jointer/clipper seam. Other examples of applications and industries for this blue monofilament polyester mesh are sieves, filters, vacuum belts, flour milling industry, hygienic paper industry and so on.
Common technical options and specifications
Wire diameter: 0,80 mm – 1,00 mm
Mesh opening: 1,00 mm – 4,00 mm
Wires per cm: 2×2/cm – 5,5×5,5/cm
Maximum temperature: approximately 100 °C | 212 °F
Colour: blue/white
Hydrolysis resistance
Food grade
Plain weave
Polyester filter fabric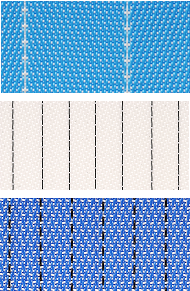 Polyester filter fabric is a monofilament polyester mesh which is used within the food and non-food industry. By far the largest application of this material is for dryer, filter and conveyer belts with finished edges and seam.
The edges of this type of belt are finished by melting the edges by means of a high frequency machine and the seam can be finished by means of a metal jointer or a woven seam. Those monofilament polyester mesh belts are used for instance for dewatering purposes within filter belt presses to separate sludge from water. On the other hand, those polyester fabrics are also used within filtermat spray dry towers in order to dry and produce dairy powders. These belts are provided in food grade, are mostly white and provided with a black anti-static carbon wire to get rid of static energy (to prevent explosion danger).
Some other applications for this type of monofilament polyester mesh belts are; Fibreboard wood presses where various belts are being used to press this type of engineered wood together under a lot of pressure. In addition, production installations for the hygienic disposables industry, where polyester filter fabrics are applied as vacuum belts to transport and process hygienic disposables like diapers and sanitary towels.
Common technical options and specifications
Wire diameter: 0,35 mm – 0,80 mm
Open surface: 1,3 % – 7,7 %
Wires per cm: 15×6/cm – 22×19/cm
Maximum temperature: approximately 110 °C | 230 °F
Colour: blue/white
Hydrolysis resistance/non-hydrolysis resistance
Food grade/non-food grade
Twill-, Plain- and Dutch weave
Polyester spiral mesh
Polyester spiral mesh is also a monofilament polyester mesh but not like a woven fabric, instead this is a polyester mesh with  spiral twisted wires where pins hold the spirals together like a chain. Most of the polyester spiral mesh is used within the dewatering industry to separate sludge from water within filter belt presses. But polyester spiral mesh belts are also used within the food industry to dry fatty milk and whey powders, or to separate (food) solids from liquids. Other applications and industries are chemicals, pharmaceutical, coal washing and paper pulp washing. The polyester spiral mesh can be equipped with or without filling wires which enables adjustment and customization of the air and liquid permeability.
Common technical options and specifications
Wire diameter: 0.70 mm – 0.90 mm
Weave thickness: 2.3 mm
Wires per cm: approximately 2.2×7/cm
Maximum temperature: approximately 110 °C | 230 °F
Colour: blue/white
Hydrolysis resistance
Food grade/non-food grade